Regular price
$7,999.00 USD
Regular price
Sale price
$7,999.00 USD
Unit price
per
Sale
Sold out
Built and tested in the USA.
Motor Power | 10kW
Stock Battery | 72V & 30AH (2.2kWh)
Stock Range | 14-70 miles
Brakes | 220mm Tektro Brakes
Suspension Travel | 8" Front and 10" Rear
Wheels | 19" Motorcycle DOT wheels
Charger | 110V Smart AC Charger

*Contact for custom paint color, pictures for reference only.
Options

36Ah Stock Battery | 2.6kW Hours / 16-80 miles of range.

42Ah Battery Upgrade | 3kW Hours / 20-100 miles of range.

63Ah Battery Upgrade | 4.5kW Hours / 30-150 miles of range.

The moto range (minimum) is in the toughest riding conditions.
The ultimate range (maximum) is in ideal efficiency conditions. (Average rider going 15mph or less on flat paved ground)

LED Light Kit

LED Headlight
LED Tail Light
Handlebar Switch

120W DC/DC System.

Street Safety Kit

Making your ride safer and necessary if you intend to register you bike, it includes:

Headlight
Tail Light
Brake light
Turn signals
Mirrors
Horn

Performance MotorWheel

Hand-built in the USA with top materials and expertise.
Essential for pushing your bike to the highest levels of performance.
~2x standard spoke diameter.
18" Excel Takasago rim (or similar) for high impacts and rocky conditions.

Tektro Brake System

1.8mm: 220mm Rotors / 2-piston
2.3mm System: 220mm Rotors / 4-piston
Dual Front Rotors: Less noise / 2x Front Force / Longer brake life

Schlumpf 2 Speed Crankset

Made in Germany
2.5:1 overdrive, pedal upwards of 50 mph. (Only 15 mph stock)
A satisfying feeling and can add to the effective range of your bike. 
About The Eagle

10kW of Power + Advanced Cooling

Highest power-to-weight ratio in its class.

Advanced cooling maintains efficiency and extends lifespan.

160+ ft-lbs of Torque

Over 160 ft-lbs of torque at the wheel.

Throttle wheelies on demand.

DOT Motorcycle Wheels and Tires

Full-sized Motorcycle wheels and tires.
19" DOT Enduro tires that work great on & off-road
Built for the power and speed of a motorcycle.

Fully-Adjustable Suspension System

Made for the roughest terrain and fastest roads.
Fully adjustable preload, compression, and rebound.

Advanced Braking System

220mm front & rear Tektro brake system.
4 kW of regen braking power, often making it unnecessary to use the brake pads at all.
Regen can return up to 20% of the energy back to the battery.

Lifespan |

800 cycles or up to 10 years

Charging time |

6hrs from empty

Controller |

 10kW 

Electronic Speed Controller
Shipping

USA Shipping: $600 & ready-to-ride

*Call or Email for International Shipping.

+1 (714) 594-9885 / cab@cabmotorworks.com
FAQs

What's the max range of your bikes?

Battery sizes are as follows:

24Ah / 1.7kW Hours | 12-60 miles of range.
30Ah / 2.2kW Hours | 14-70 miles of range.
42Ah / 3kW Hours | 20-100 miles of range.
63Ah / 4.5kW Hours | 30-150 miles of range.

Riding easy vs hard can result in a ~5x difference in range. This is true for all battery powered high-performance vehicles.


How capable are the bikes?

Acceleration: Our ebikes have surprising torque, and the Recon is quicker than any other ebike.
Nimbleness: Added weight from a larger battery is hardly noticeable. Light, powerful, and agile.
Terrain: Standard 8" front and 10" rear suspension allow you to overcome most all obstacles.


What is the Performance Motor wheel?

Hand-built in the USA and doubling the spoke diameter from the standard. It cushions the motor from high impacts and rocky conditions. Mitigating dented rims with its higher sidewall.This is essential if you'll be pushing your bike to the highest levels of performance.


Rain and wet conditions?

Our E-bikes can handle rain and water splashes. However, submerging or pressure washing the bikes with water is not recommended and can lead to component damage or failure.


How should I clean my bike?

Use a clean, dry or damp microfiber cloth to wipe down your ride or leave it dirty as your badge of honor.
Share
View full details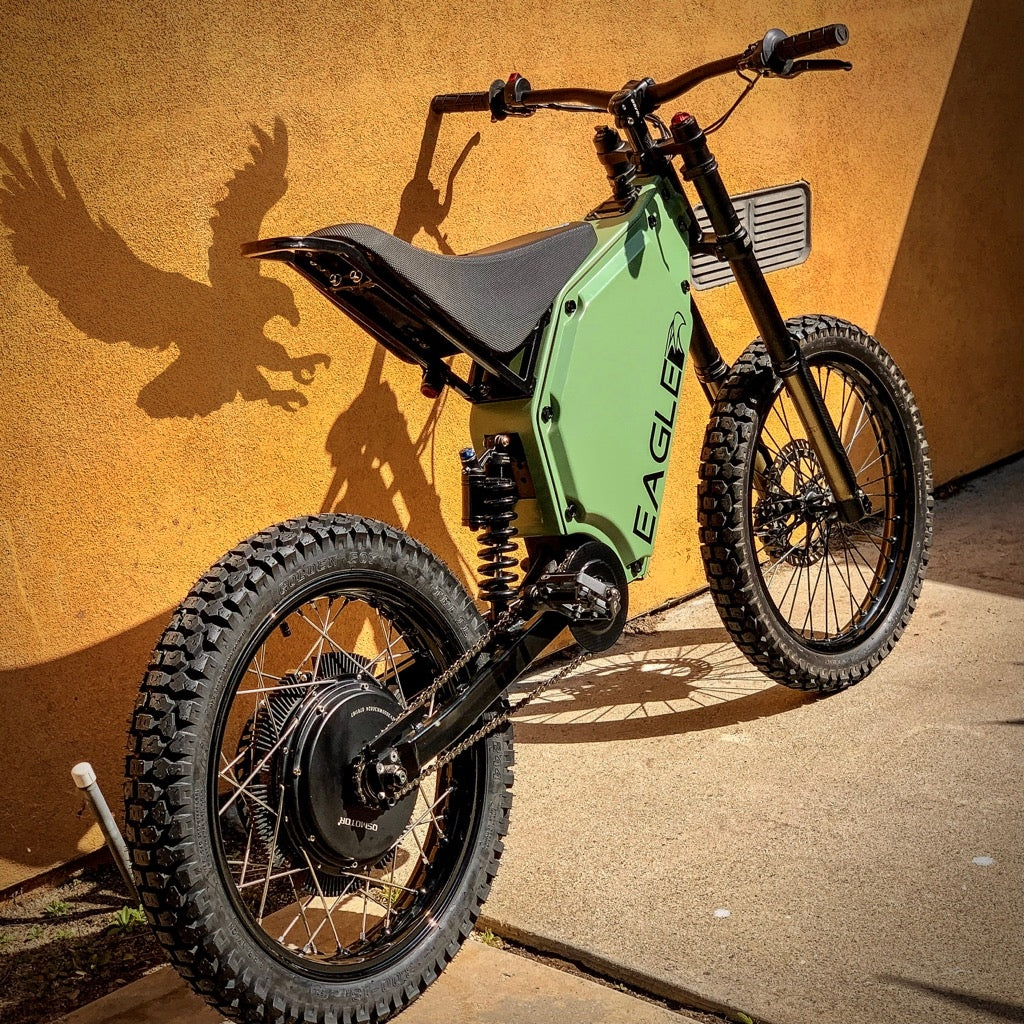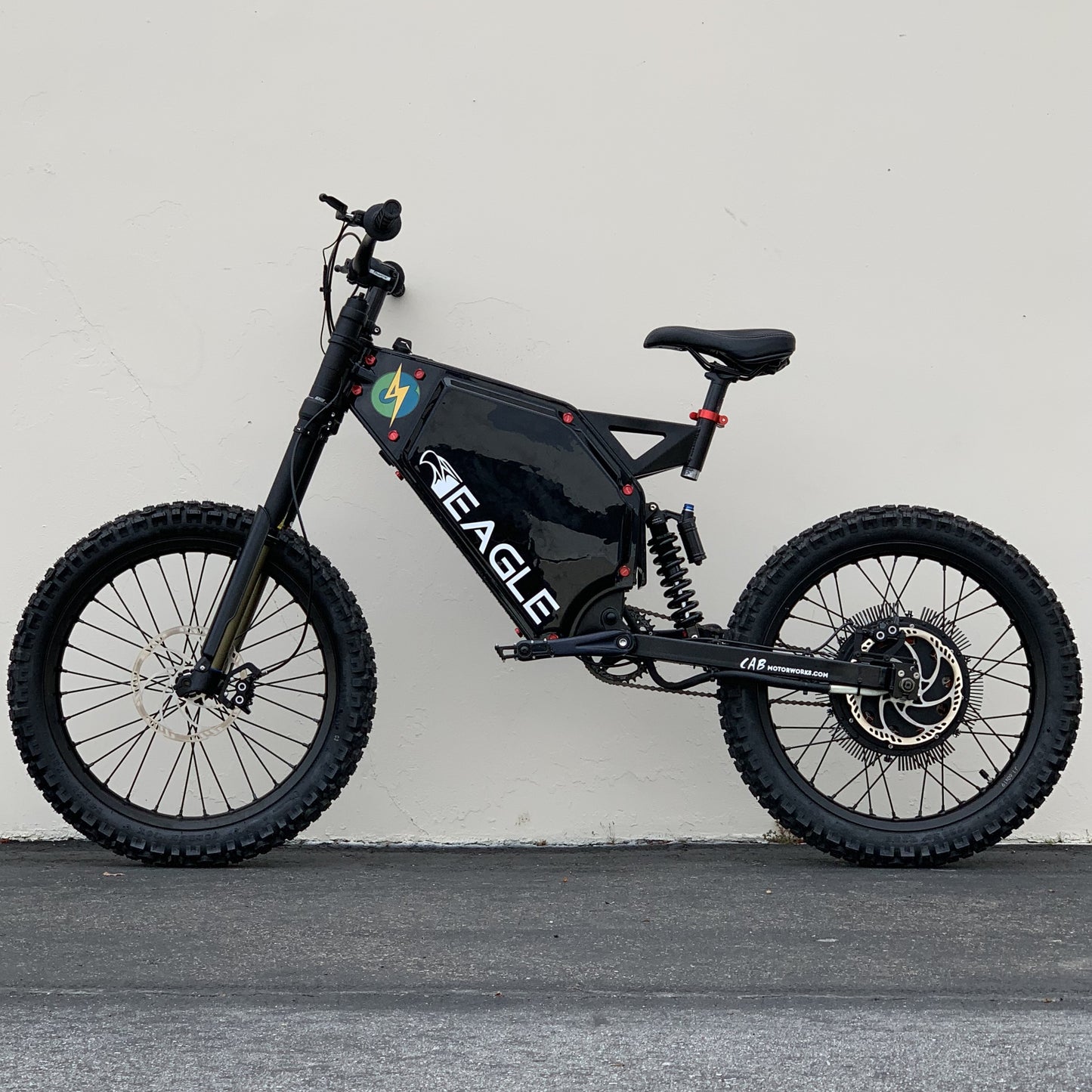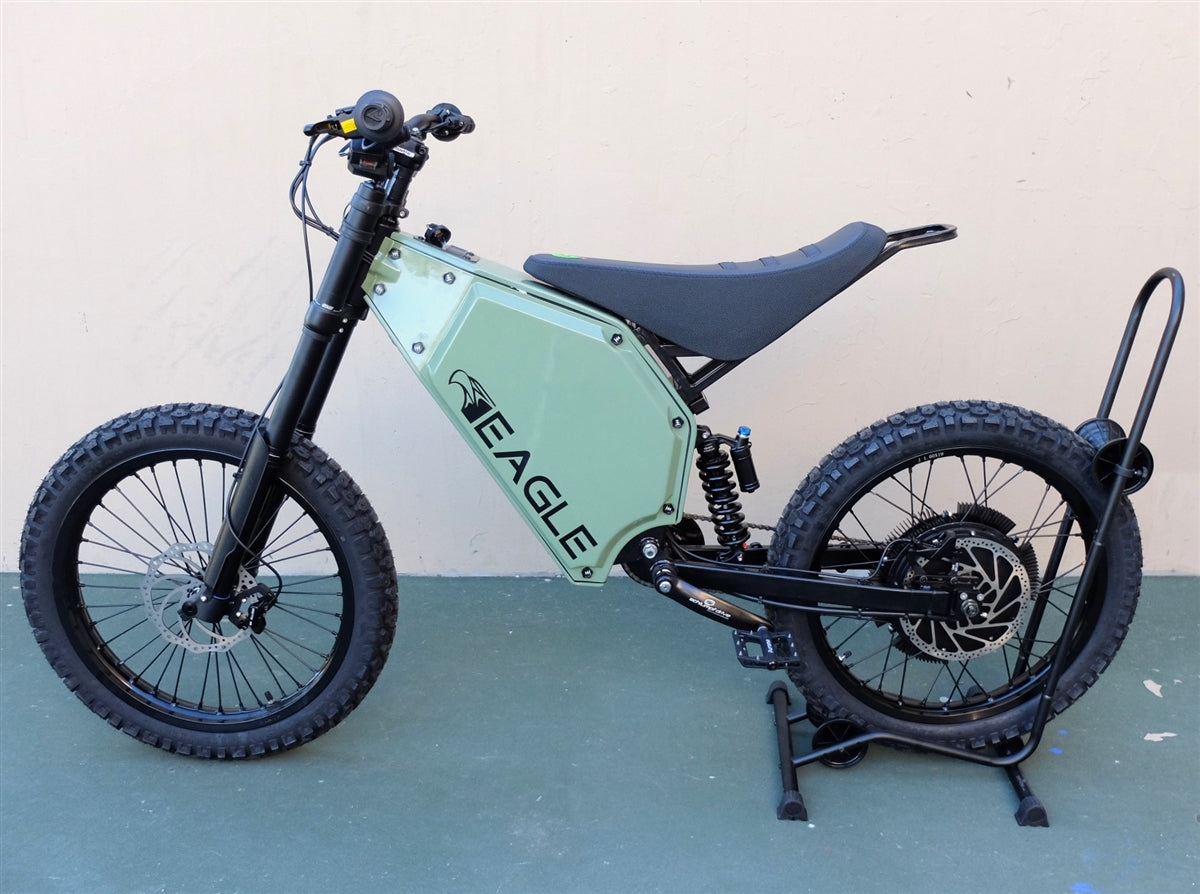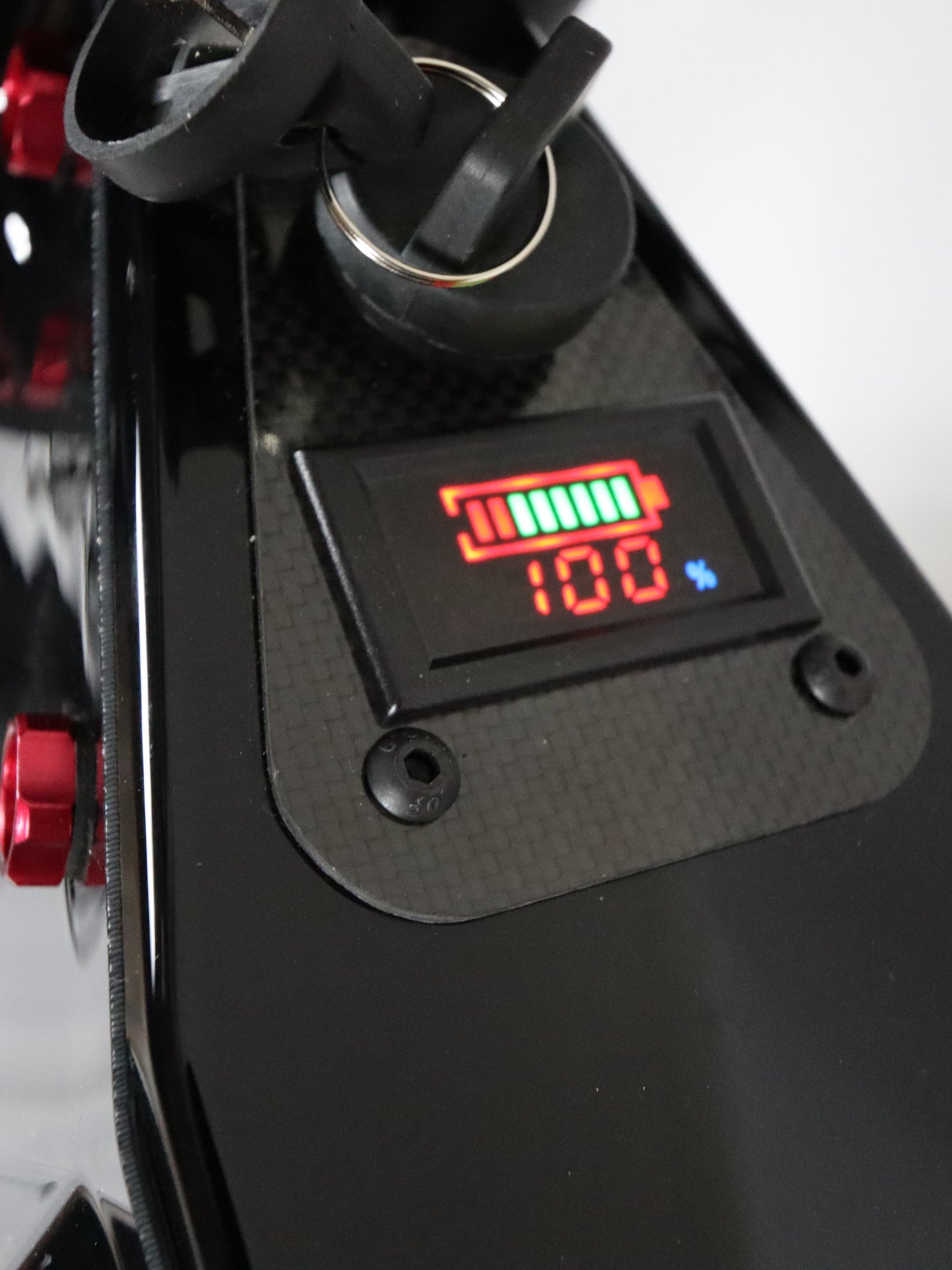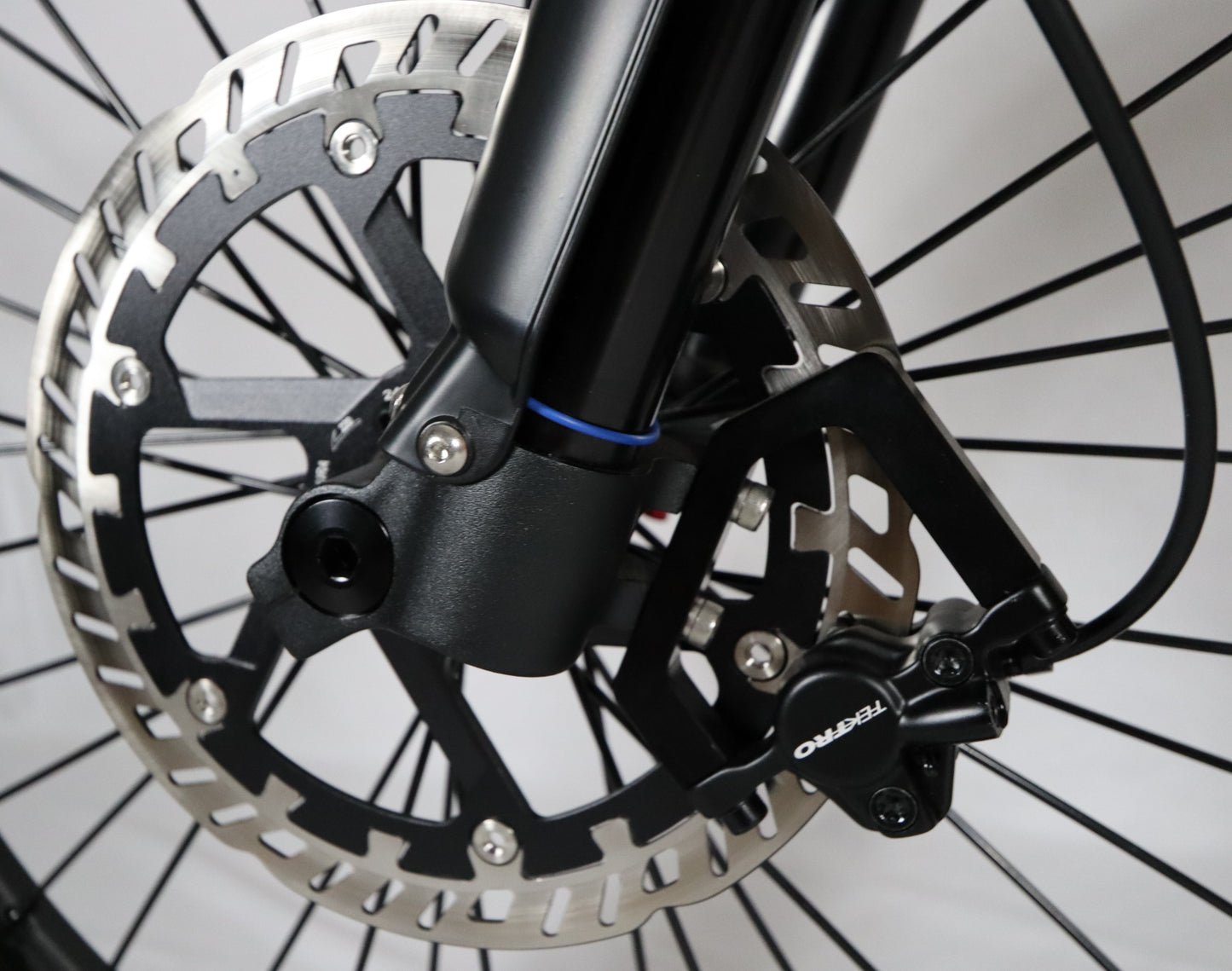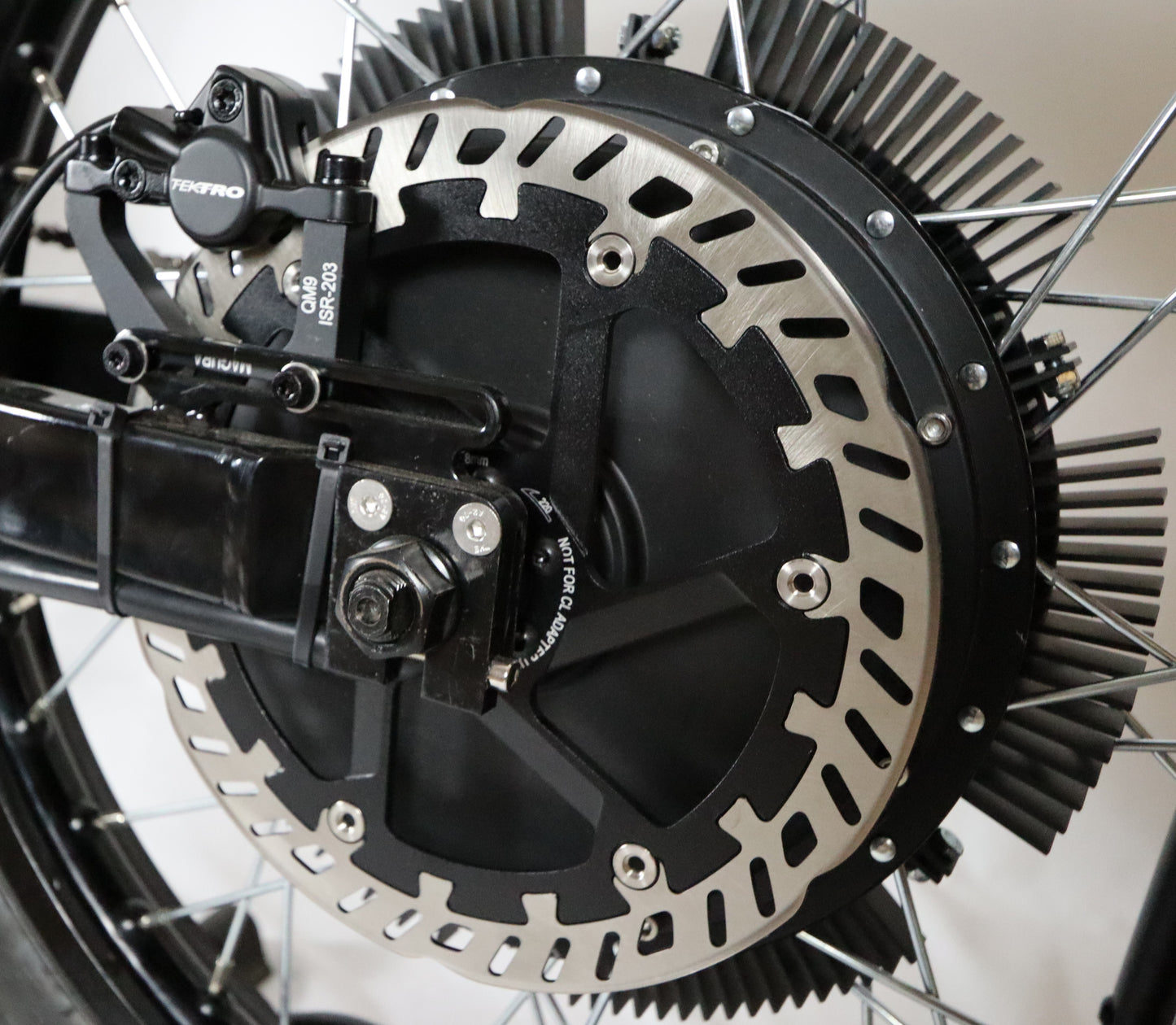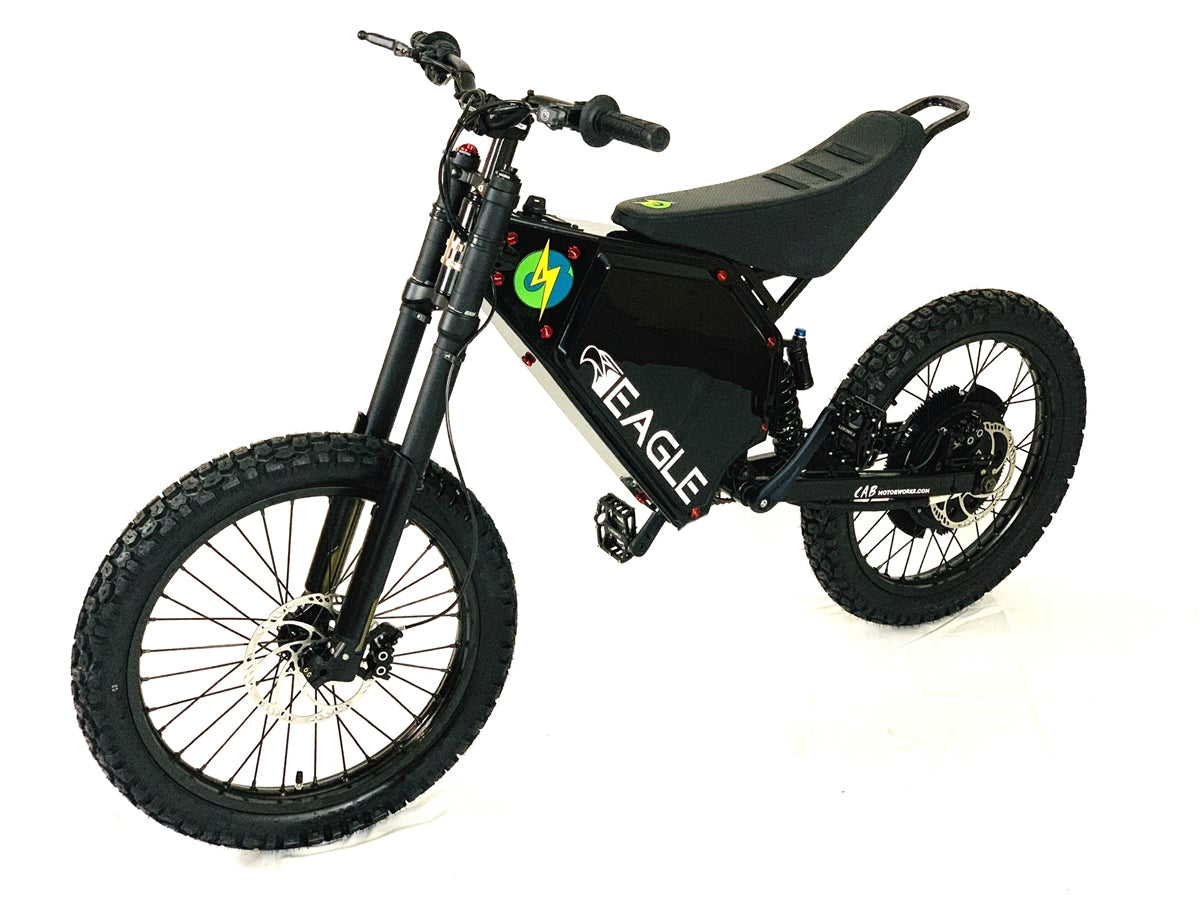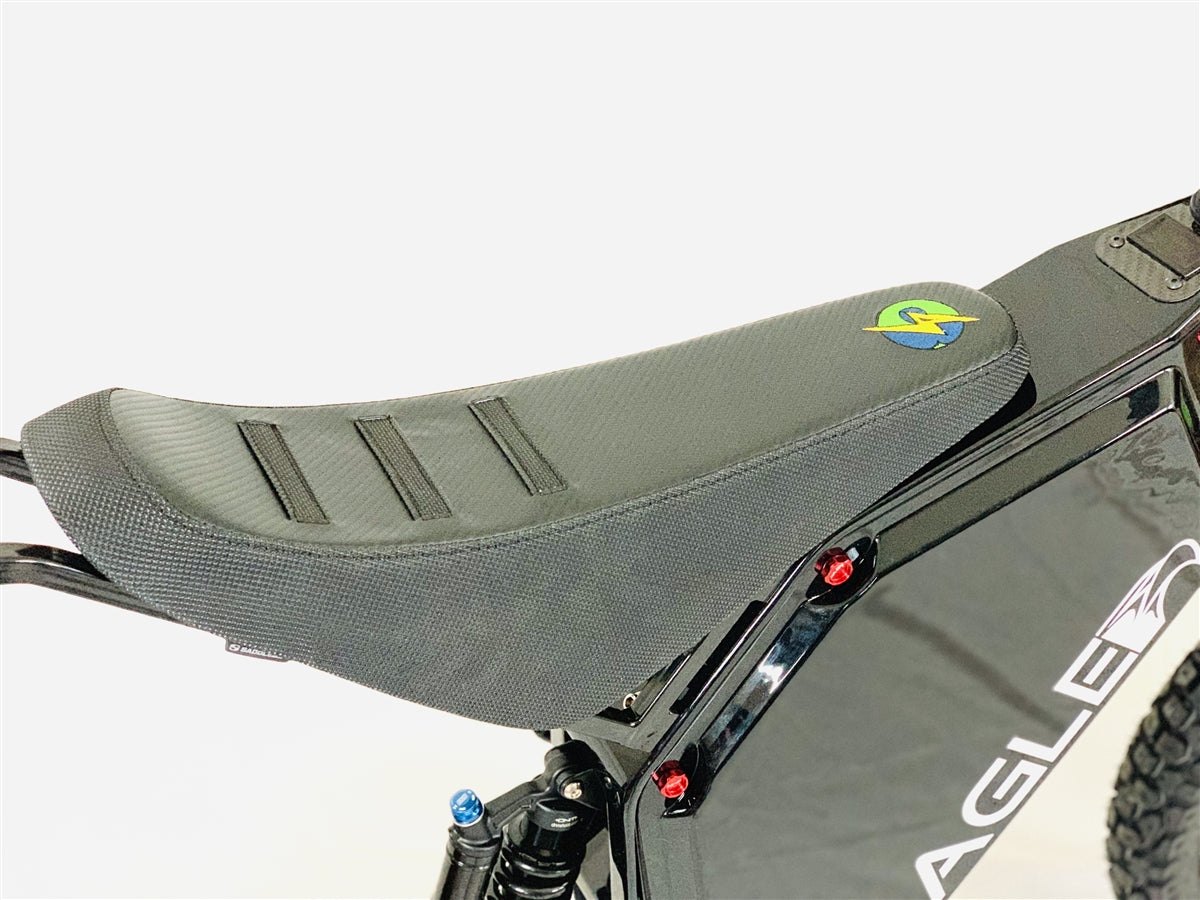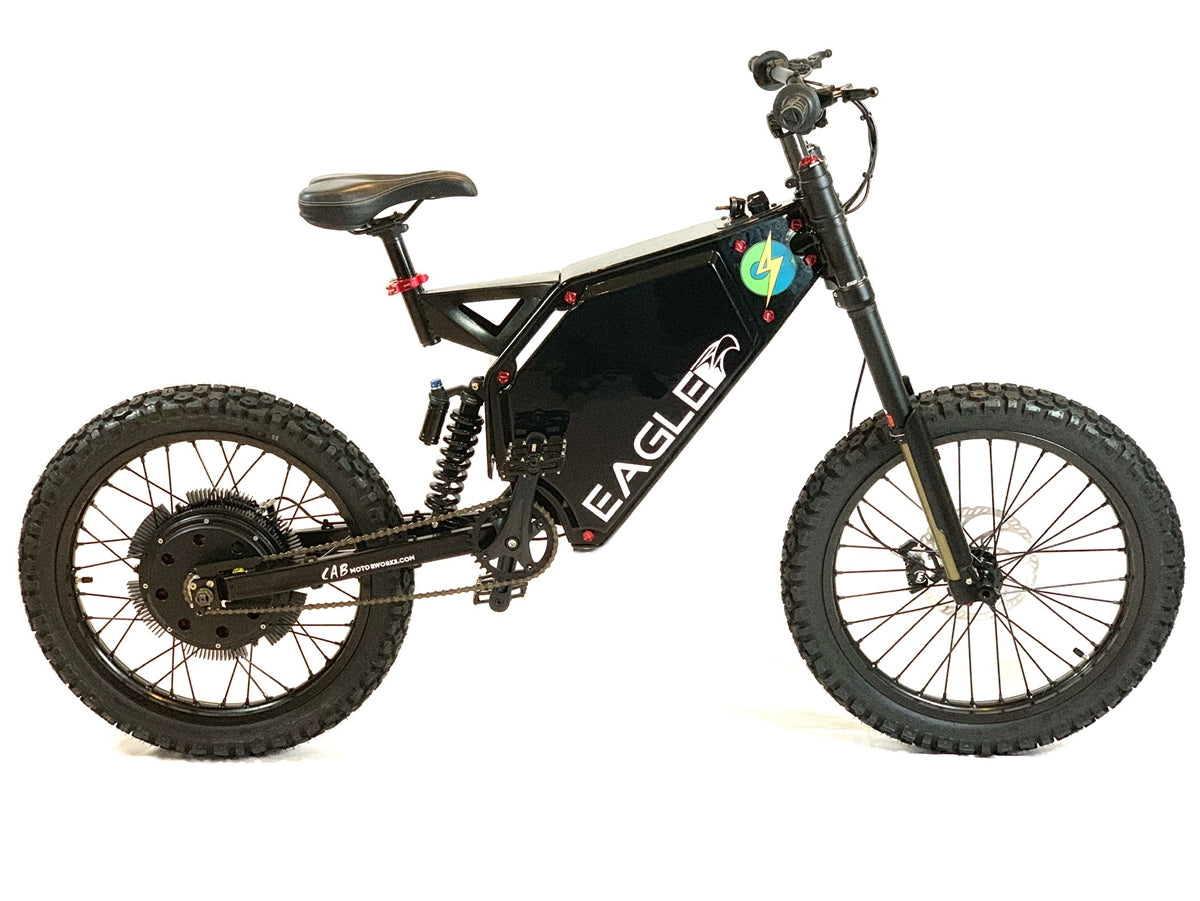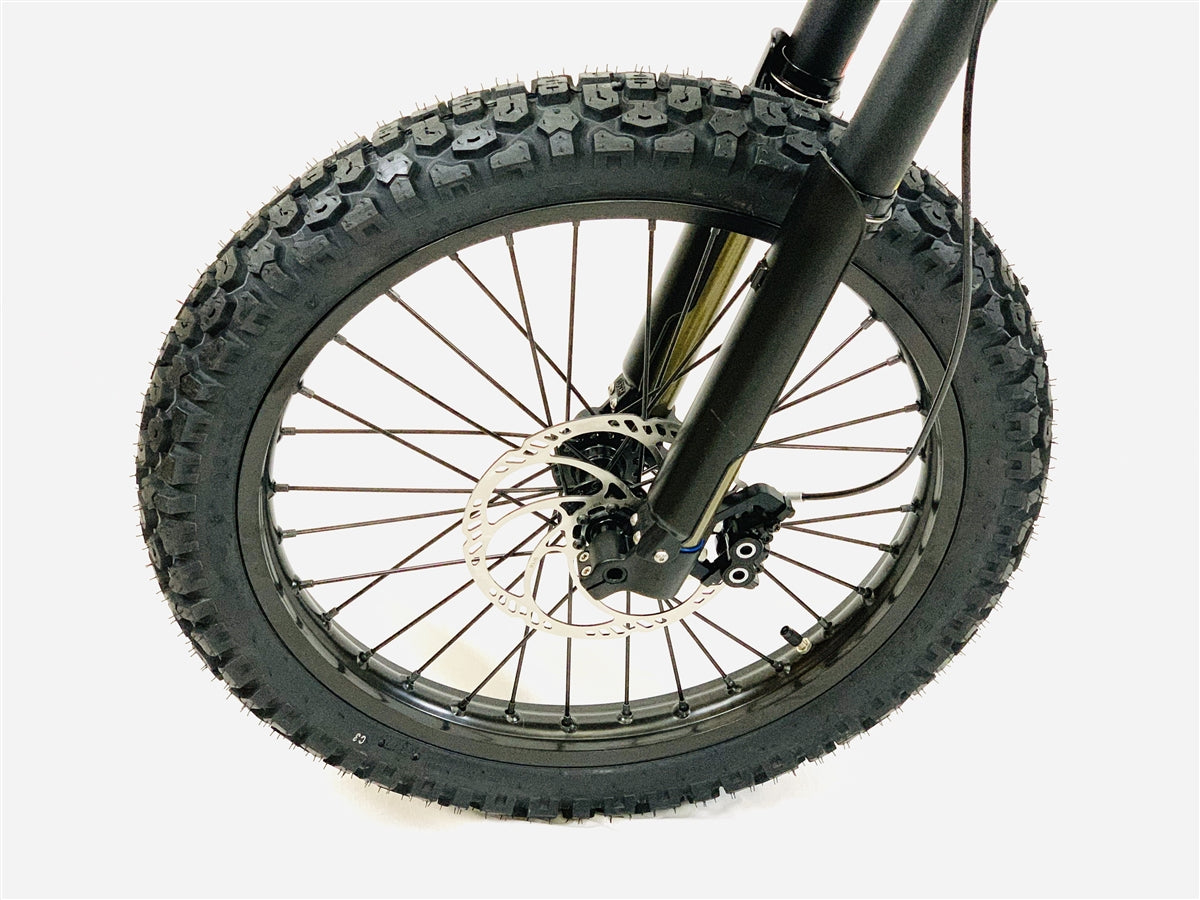 Liberar los modos de manejo
Hola tengo un aguila . Pero solo tengo 2 modos de manejo quiero poner el 3 y se apaga la pantalla alguien me puede decir como liberarlo . [****] 522283344101 gracias
Love my eagle - Room for improvement though....
Once I hopped on, I was immediately taken back at how the bike felt - throttle response, suspension, tires, rims and quality of parts used around the frame ect, really made me feel like I bought something of quality. Only downside, it took about 4 months to get the bike.
Since ordering the bike in January and receiving it in March, I have used it primarily for commuting to work on bike paths and some stretches of road, keeping up with traffic without an issue.
The first day of riding was unreal. Tune the suspension from stiff road use to a softer off-road set up and it rolled over bumps, rocks and climbed hills with absolutely zero issue. It was really impressive.
Now for the cons and suggestions for improvement.
After a short ride on day 2 of ever taking the bike "off-road", the seat snapped out from underneath me. This is the eagle "moto seat". A seat they sell for $800 and should be the last to break on the bike. I was lucky the seat didn't hit the back tire when it snapped and stab the thin metal seat frame through both of my hamstrings. I was also forced to walk the bike back to my campsite roughly 4.5 miles away. I would consider the seat failing a serious quality issue and should be addressed ASAP. I DID NOT JUMP THE BIKE. I am a novice rider and was on a novice trail. I also lost my front brake and some of my rear brake (lost pressure), I was thankful to still have regen braking.
If they fix seat, brakes, rear led light mount and better waterproofing = Homerun.
If it was comfortable it would be worth every $
Wont be as rude as the other guy because every ebike Ive ever ridden the seat is trash but after about a 3 hr ride my butt and lower back is sore this seat does make you keep charging positions trying to find the soft spot. Will agree on 800 bucks being high since its not comfortable kinda does feel like you set on a 2x4 the next day tho lol
THERE ALL SWEEt
Wow - the design look is all you. Going throw the bikes is like picking what you want for X-MAS -I think out of the many I have been going through yours are the best the design looks like it would last for ever tuff and angle. I give it 5 stars on any of your custom bikes Just a guy looking at the toys and really empresses bikes here..
CAB's Eagle exceeded expectations
I wasn't sure what I was expecting after purchasing the Eagle, but what arrived wasn't even close.
After opening the crate, adjusting suspension and tightening the stem, I hopped on and went for a ride.
First thing I notice is the ludicrous acceleration, then how smoothly the bike handled the torque and after some distance just how capable the brakes are. Once I left the paved roads and hit some offroad, the stability and ease the Eagle tackles terrain at speed is unreal.