Regular price
$9,999.00 USD
Regular price
Sale price
$9,999.00 USD
Unit price
per
Sale
Sold out
Built and tested in the USA.
Motor Power | 20kW
Stock Battery | 72V & 36Ah (2.6kWh)
Stock Range | 16-80 miles
Brakes | 220mm Tektro Brakes
Suspension Travel | 8" Front and 10" Rear
Wheels | 19" Motorcycle DOT wheels
Charger | 110V Smart AC Charger
*Contact for custom paint color, pictures for reference only.
Options

36Ah Stock Battery | 2.6kW Hours / 16-80 miles of range.

42Ah Battery Upgrade | 3kW Hours / 20-100 miles of range.

63Ah Battery Upgrade | 4.5kW Hours / 30-150 miles of range.

The moto range (minimum) is in the toughest riding conditions.
The ultimate range (maximum) is in ideal efficiency conditions. (Average rider going 15mph or less on flat paved ground)

LED Light Kit

LED Headlight
LED Tail Light
Handlebar Switch

120W DC/DC System.

Street Safety Kit

Making your ride safer and necessary if you intend to register you bike, it includes:

Headlight
Tail Light
Brake light
Turn signals
Mirrors
Horn

Performance MotorWheel

Hand-built in the USA with top materials and expertise.
Essential for pushing your bike to the highest levels of performance.
~2x standard spoke diameter.
18" Excel Takasago rim (or similar) for high impacts and rocky conditions.

Tektro Brake System

1.8mm: 220mm Rotors / 2-piston
2.3mm System: 220mm Rotors / 4-piston
Dual Front Rotors: Less noise / 2x Front Force / Longer brake life

Schlumpf 2 Speed Crankset

Made in Germany
2.5:1 overdrive, pedal upwards of 50 mph. (Only 15 mph stock)
A satisfying feeling and can add to the effective range of your bike. 
About The Recon

20 kW Sine Wave System + Advanced Cooling

Most powerful electric bike on the planet second only to the CAB Racer.

Twice as powerful as the Eagle, with a boost in top speed by 25% and torque by almost 50%.

Advanced cooling for improved efficiency and extended lifespan.

RECON Sub-frame and Moto Seat

Designed by CAB, and made in the USA.

Waterproof controller housing with improved cooling.

By riders for riders, with great fit, form, and function.

DOT Motorcycle Wheels and Tires

Full-sized Motorcycle 

wheels and tires.

19" DOT Enduro tires that work great on & off-road

Built for the power and speed of a motorcycle.

Fully-Adjustable Suspension System

Made for the roughest terrain and fastest roads.

Fully adjustable preload, compression, and rebound.

220mm front & rear Tektro brake system.

4 kW of regen braking power, often making it unnecessary to use the brake pads.

Regen recharges up to 20% of energy back into the battery.

Lifespan |

800 cycles or up to 10 years.

Charging time |

6hrs from empty.

Controller |

 20kW Electronic Speed Controller
Shipping

USA Shipping: $600 & ready-to-ride

*Call or Email for International Shipping.

+1 (714) 594-9885 / cab@cabmotorworks.com
FAQs

What's the max range of your bikes?

Battery sizes are as follows:

24Ah / 1.7kW Hours | 12-60 miles of range.
30Ah / 2.2kW Hours | 14-70 miles of range.
42Ah / 3kW Hours | 20-100 miles of range.
63Ah / 4.5kW Hours | 30-150 miles of range.

Riding easy vs hard can result in a ~5x difference in range. This is true for all battery powered high-performance vehicles.


How capable are the bikes?

Acceleration: Our ebikes have surprising torque, and the Recon is quicker than any other ebike.
Nimbleness: Added weight from a larger battery is hardly noticeable. Light, powerful, and agile.
Terrain: Standard 8" front and 10" rear suspension allow you to overcome most all obstacles.


What is the Performance Motor wheel?

Hand-built in the USA and doubling the spoke diameter from the standard. It cushions the motor from high impacts and rocky conditions. Mitigating dented rims with its higher sidewall.This is essential if you'll be pushing your bike to the highest levels of performance.


Rain and wet conditions?

Our E-bikes can handle rain and water splashes. However, submerging or pressure washing the bikes with water is not recommended and can lead to component damage or failure.


How should I clean my bike?

Use a clean, dry or damp microfiber cloth to wipe down your ride or leave it dirty as your badge of honor.
Share
View full details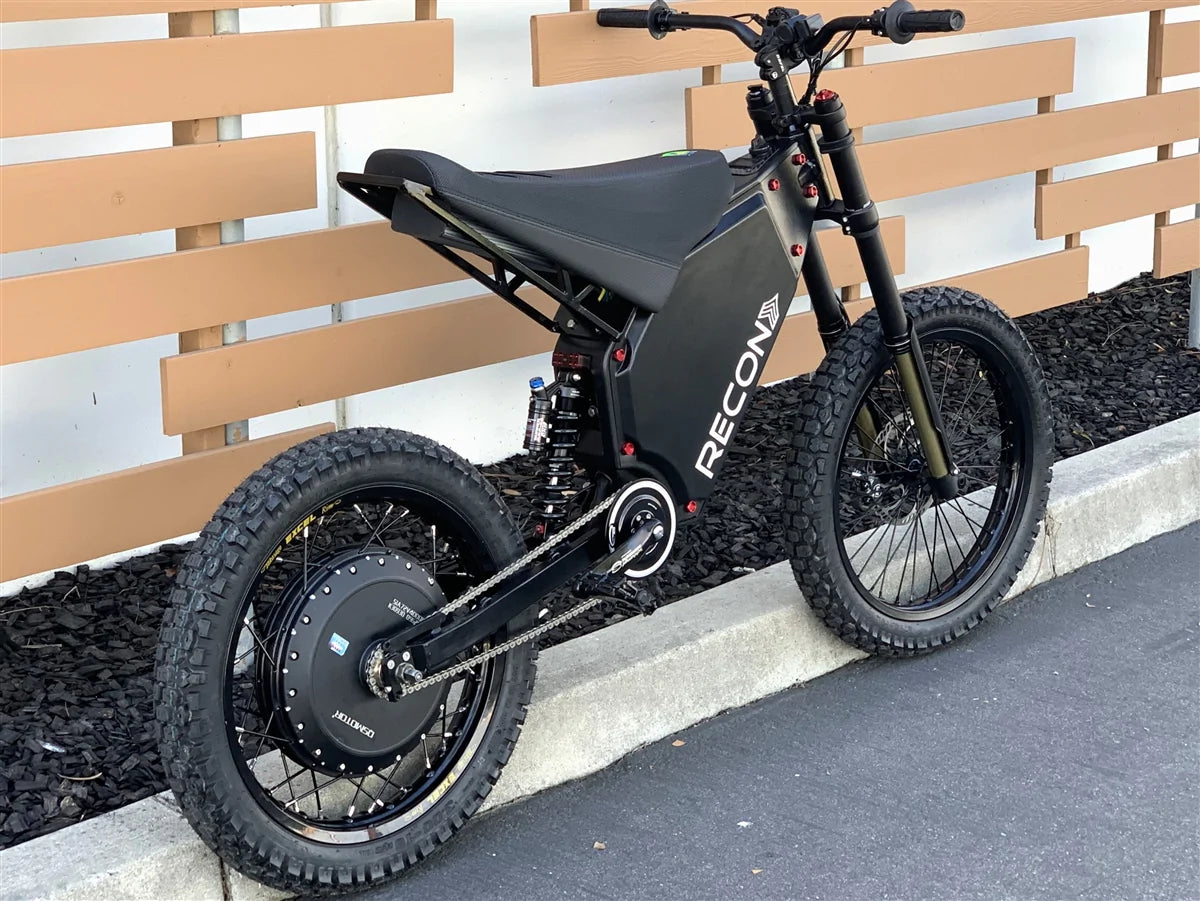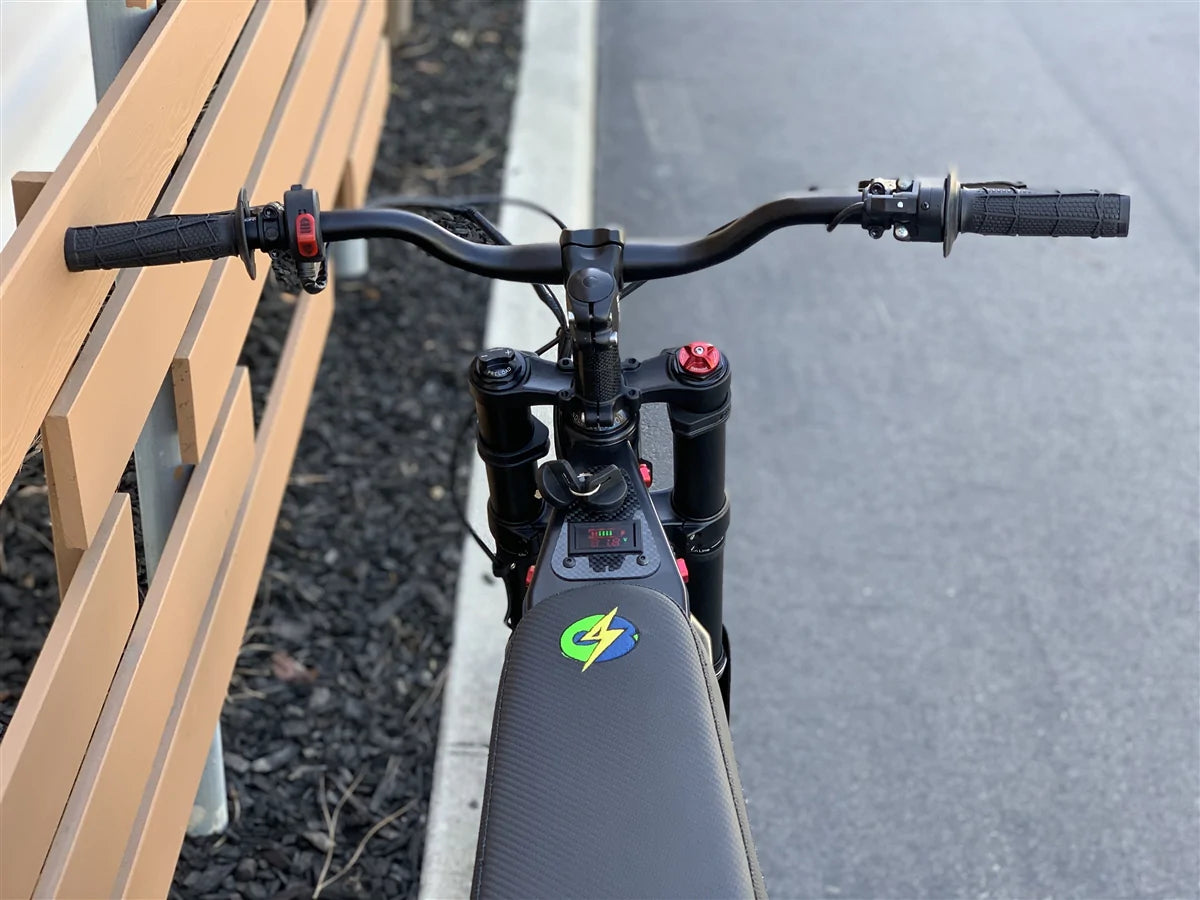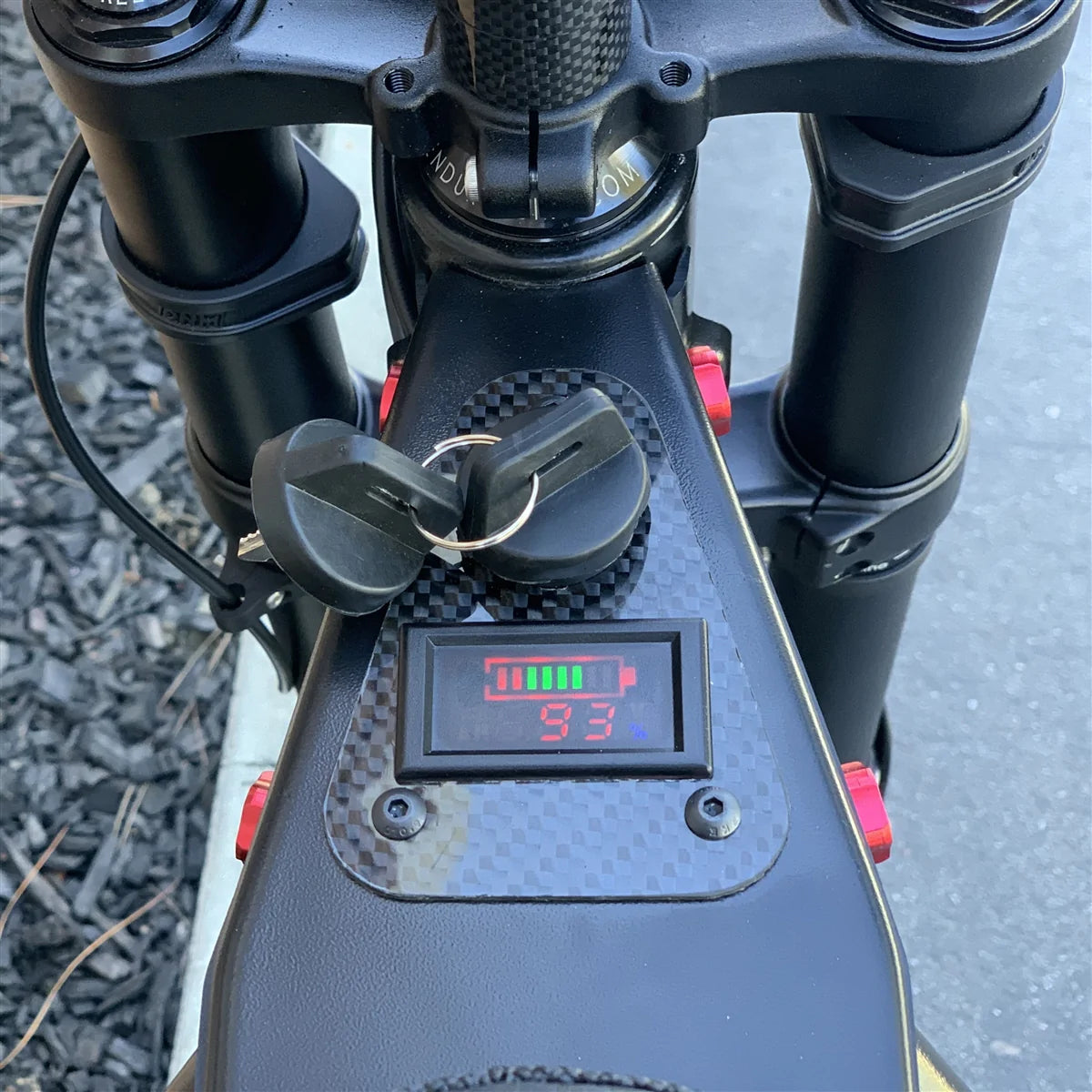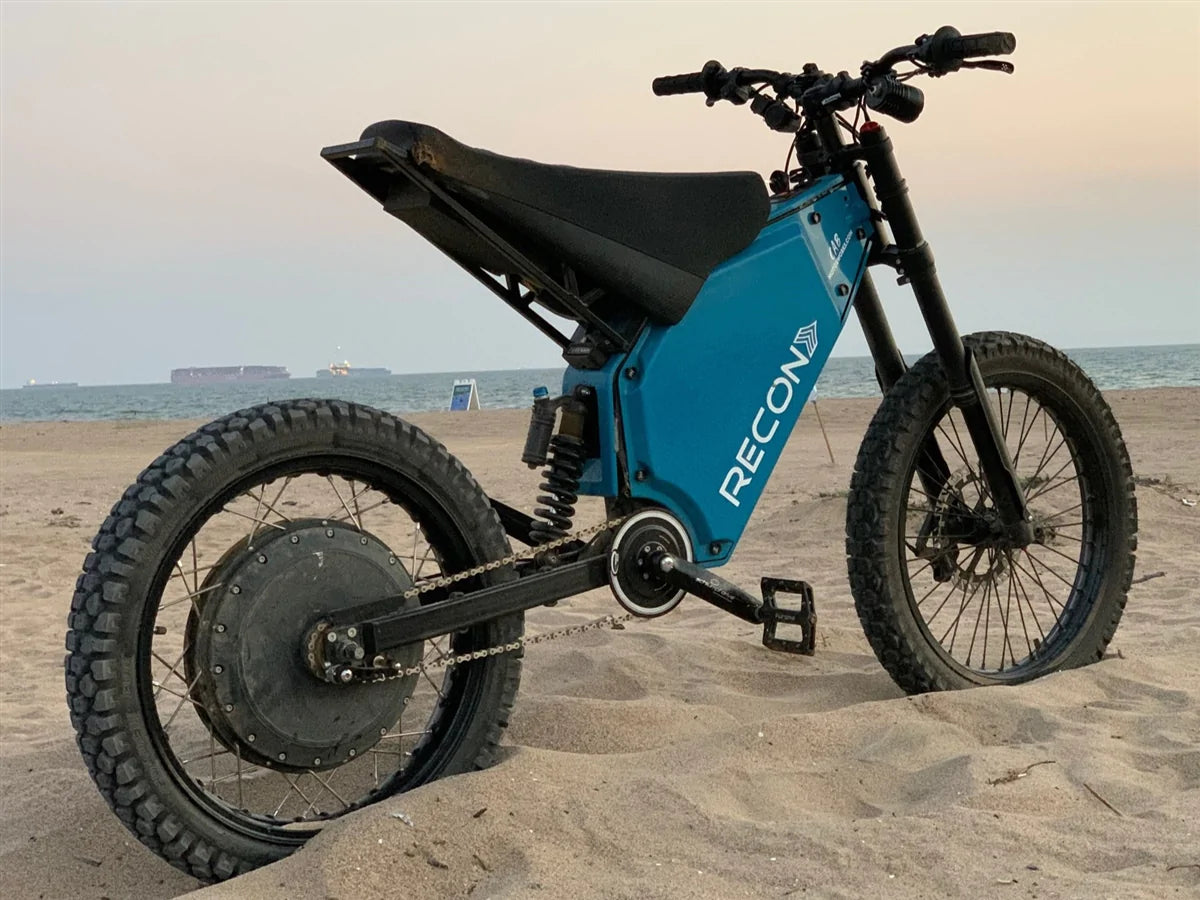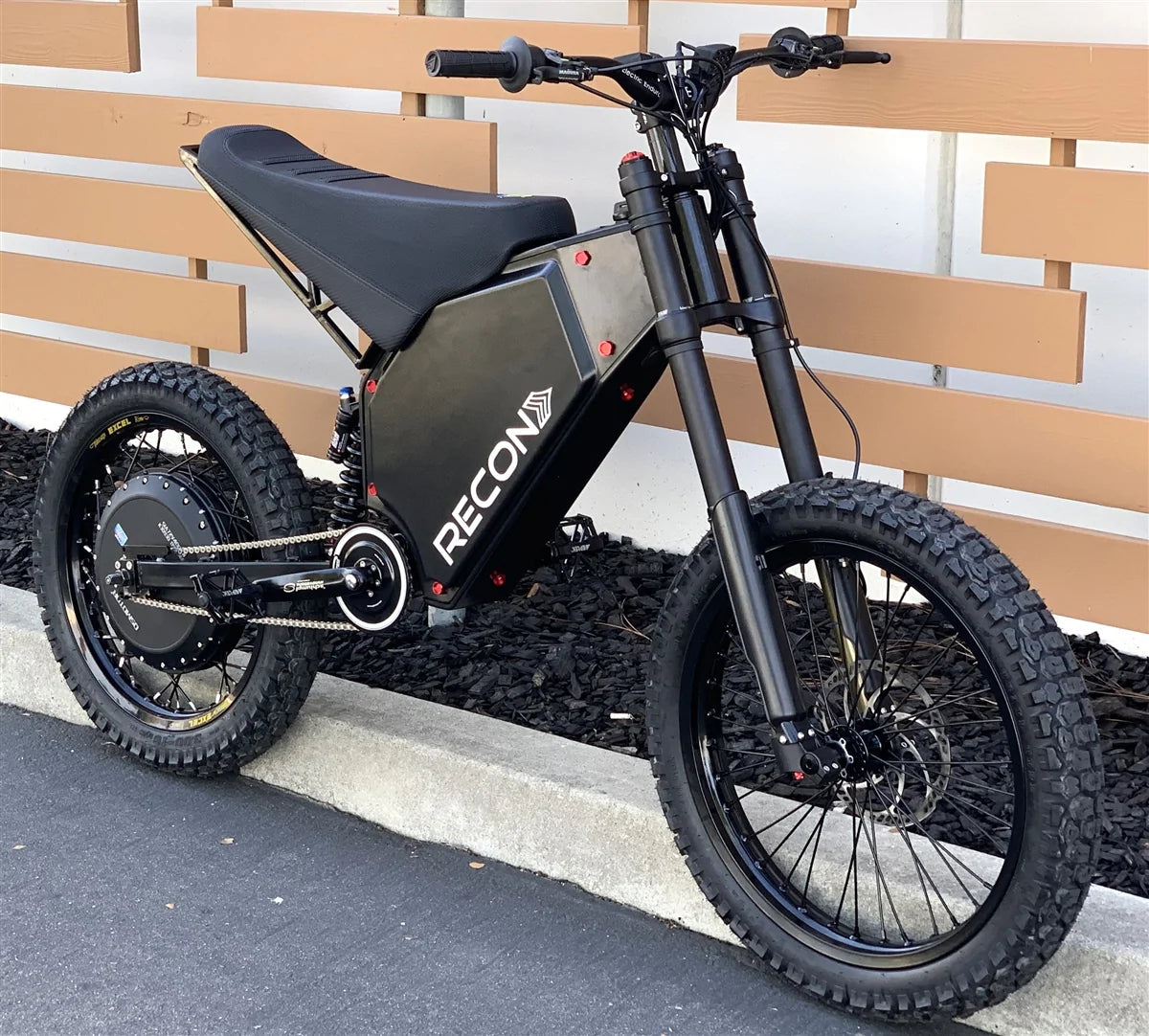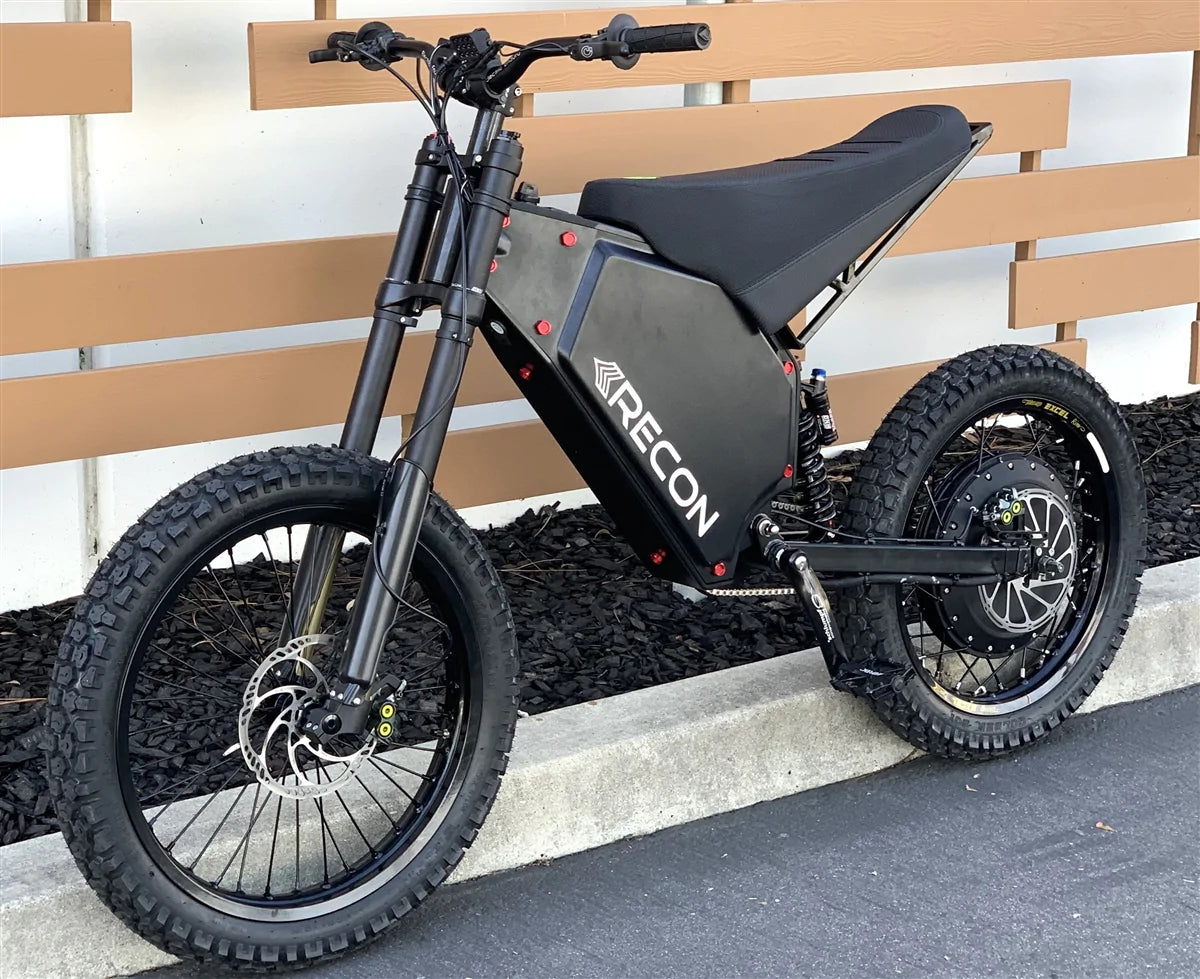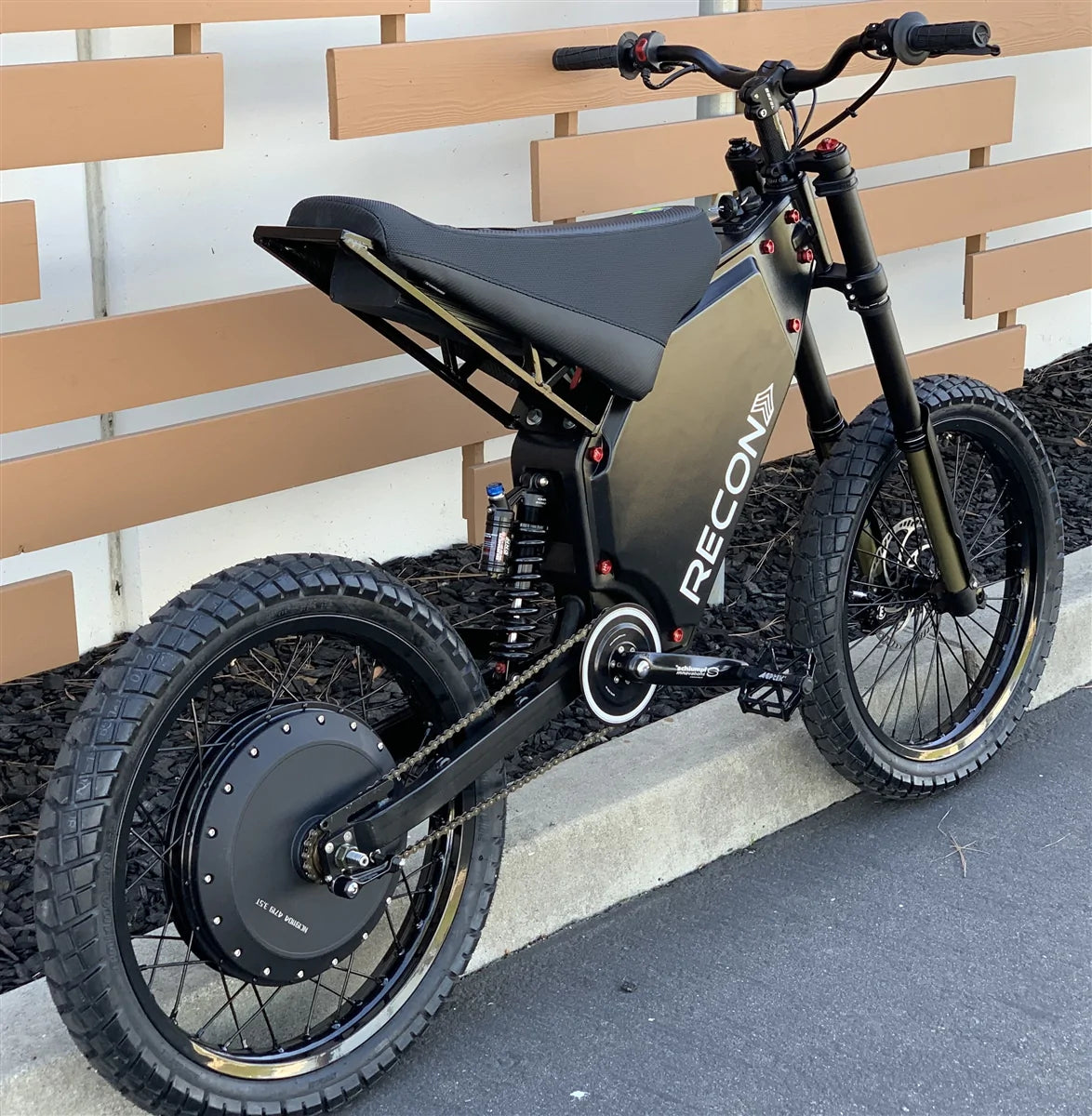 CAB Recon is a beast!
Got a custom CAB recon with the bike seat option so that it would look just like a beefed up pedal bike instead of an actual dirtbike and I'm so happy I did cause I crossed paths with multiple cops many times while riding it on the road and they don't bother me at all. Just pedal while they are around and then full throttle it at 70mph when the coast is clear!
The CAB Recon is powerful and a beast of a machine. It climbs steep terrain all day long, easily, without ever overheating. I'm am super happy with my purchase. It does take a while to get your order but the wait is well worth it. You just need to be patient. It took about 5 months from the time I ordered the recon, to the time I received the bike in person. It was well worth it. You get what you pay for with CAB motorworks. Awesome customer service!!! Will definitely be purchasing more bikes from CAB in the future when ever I'm able to again.
Freaking awesome
I wanted to post my review here also.
I just wanna say hands down Chris is the best customer service I have ever worked with on any company . Whenever i contact them on an issue they are right there within 24hrs . My bike broke a few months back and they sent multiple parts to take car of my issue and to hold me over until the correct asi stuff could come . Just yesterday I had an issue with a hall sensor which is common on hub motors . Sent out an email and the next morning even right after a main holiday they took care of me and my bike was taken care of . I would not hesitate to use or purchase any products they sell and stand by . I would say this bike is 10000000% the best on the market and I have ridden just about everything. The cost is totally worth the customer service and the quality of the bike itself is insane . Thanks again Chris for all the help and info on getting things taken care of .
Recon
Took a little longer than usual to get the bike, but well worth the wait! The motor is dead quiet, throttle response is smooth & predictable. Very smooth comfortable ride! I like the fact you just turn the key & go, none of this you want level 1, level 2, level 3 , 4 or 5!? just twist the throttle & hang on! You have full power at your fingertips. If you get one tell Chris to include a kickstand with it, well worth it!! Can't say enough good things bout this bike!
This bike is insane!!
This thing is insanely fast, handles great, and is well built. I most recently came from a Honda CRF250R and was a bit worried the Recon would be a bit under powered. Boy was I wrong! My Recon will straight up move! This thing will pick the front end up literally at any speed and 6'0 185lbs. The versatility of this bike is insane from ripping it up on the track with buddies to respectfully peddling my neighborhood, it does it all. I come from a long history of dirt bikes and motorcycles, but the versatility the Recon offers just makes it so much more fun to ride. You can ride it almost anywhere! Aside from the bike, dealing with Chris was a great experience. He gave me a rough estimate of when my bike would be complete and sure enough on that date he sent me an email saying my bike was shipped. Chris shipped he bike from California on a Friday and it arrived in my state on Tuesday! I can't say enough positive things about CAB and the Recon I purchased from them.
THERE ALL SWEEt
Wow - the design look is all you. Going throw the bikes is like picking what you want for X-MAS -I think out of the many I have been going through yours are the best the design looks like it would last for ever tuff and angle. I give it 5 stars on any of your custom bikes Just a guy looking at the toys and really empresses bikes here..